ABF Tour 2018/2017

44th MWA-Singha Thailand International Open Bowling Championships

45th MMBC Penang Pesta International Bowling Championships

18th MILO International Junior All-Stars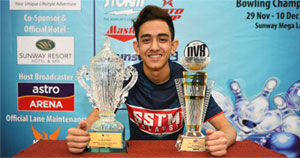 Malaysian youth captures the Masters crown
10th December, Petaling Jaya: Topseed Shahrukh Amin of Malaysia defied all odds to capture the prestigious the Masters Bowling Championships 2017 crown defeating top Korean professional, Jeong Tae Hwa, 226-210 in the title match.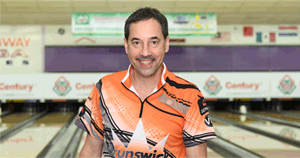 American pro tops Masters standings
9th December, Petaling Jaya: PBA Hall of Famer, Parker Bohn III of Jackson, N.J., topped the Masters qualifying leadboard of "the Masters" Bowling Championships 2017 at Sunway Megalanes on Saturday.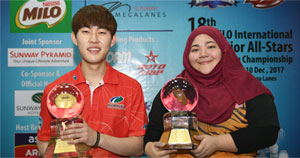 Korean, Malaysian crowned youth champions
9th December, Petaling Jaya: Debutant, Kang Myoung Jin of Daegu, Korea and Malaysian national youth, Qistina Zainal captured the Boy's and Girl's Open Masters titles at the 18th MILO International Junior All-Stars Bowling Championships 2017 on Saturday.

2017 World Bowling Championships

18th Asian School Tenpin Bowling Championships

31st Asian Intercity Bowling Championships